Best VertexFX Binary Option Dealing Room Configuration

Binary option is sorted as exotic option, so far binaries are so simple to use and understandable functionally. The most popular binary option function is a high-low option. Affording access to stocks, indices, commodities and foreign exchange, fixed-return option also refers to high-low binary option. This is because the option has an expiry date/time and also what is called a strike price.
The growing demand and the continues improvements that our system looks for, we have now included the binary Option Trading feature in our VertexFX in both client and backend side.
For best Binary Dealing Room Configuration do the follow:
Client Side:
1- All what you need to do to activate VertexFX Binary Option on your trading, starts with a request from the dealing room, you can reach it by going to the VertexFX Binary options link.
2- If a trader bets correctly on the market's trend and the price at the time of expiry is on the correct side of the strike price, the trader gets paid a fixed refund according to his payout value and regardless of how much the instrument moved. A trader who bets incorrectly on the market's direction loses her/his investment.
3- If a trader believes the market is rising, she/he would purchase a CALL, and vise versa if the trader believes the market is falling, she/he would buy a PUT.
4- For a CALL to make money, the price must be above the strike price at the expiry time. For a PUTto make money, the price must be below the strike price at the expiry time.
5- The strike price, expiry, payout and risk are all disclosed at the trade's outset. For most high-low binary option outside the U.S., the strike price is the current price or rate of the underlying financial product, such as the S&P 500 index, EUR/USD currency pair or a particular stock. Therefore, the trader is wagering whether the future price at expiry will be higher or lower than the current price.

Backend Side:
1- To activate VertexFX Binary Option plugin at your Dealing Room to offer a Binary Trading for your traders, download/install VertexFX Binary Option Backend plugin at your dealing room desk or at your any of your server. And once you install the plugin, you can reach it under the plugin tab in your VertexFX BackOffice terminal with new icon for VertexFX Binary Option Trading plugin.
2- From the VertexFX BackOffice platform create a new dealer to be used for Binary Option Trading Backend plugin and grant him privileges on desired group of clients which will be placing binary orders.
3- Grant this dealer privileges on the desired symbols so the binary orders will be placed from the clients side over these symbols, in which the binary dealer will receive and handle these binary orders in the VertexFX Binary Option Backend plugin.
4- After that navigate to the client or group account, then from Parameters select the Binary Payout and Binary Period value.
Please note if you want to add more than one value each Period and Payout value must be separated with ##
*Binary Payout Parameter Example: 160|20##165|15
*Payout Period Example: 1M##3M##5M##30M
5- Once you are done set the desired commission you want for each symbol using VertexFX Binary Backend plugin for all accounts.
6- If you are looking to configure another commission amount for another client that are located in the same group, you need to move this client to another group with new dealer and run the VertexFX Binary Option Trading plugin again using another dealer that has privilege on the new account (Follow up step number 2 and 5).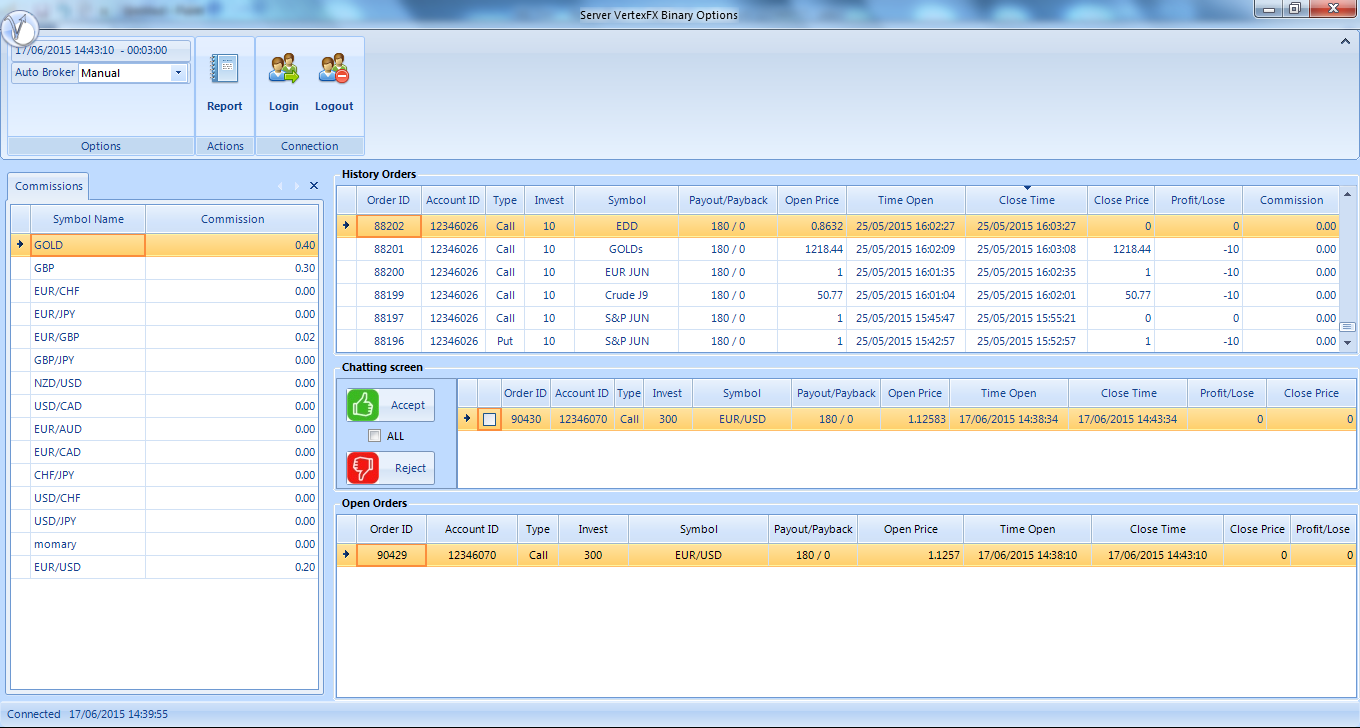 NOTES:
Binary Trading Order will be sent to the

VertexFX Binary Option

Backend plugin for auto or manual acceptance regardless the client is real or demo, also either its Auto Broker Option is set ON or OFF. So all accounts Binary Trades will go to the Binary Option dealing room for confirmation.

To get best performance you need to run VertexFX Binary Option Backend plugin at a server to avoid internet connection noise at the dealing desk.

Although the Margin Trading and Binary Option are under one common VertexFX system, but each of them acts independently and both side trades are handled as standalone system using the same account with same wallet. Means Margin Trades will go to the BackOffice terminal, and Binary Trades will go to the Binary Option Backend Plugin.

All Binary Clients orders (CALL/PUT) are handled only by Binary Dealing Room, in which the Binary Dealing Screen must be opened. As soon as the binary orders received to the Binary Dealing Room from the clients they can control orders handling manually and they have the choice to set binary orders to be auto handling; regardless what settings are set in the VertexFX system for Margin Trading.
It is known in Margin Trading that demo accounts orders are handled automatically and dont require dealing room confirmation for demo accounts, on the other hand since Binary Option is independent system it requires opening binary dealing screen, then set auto handling for binary orders.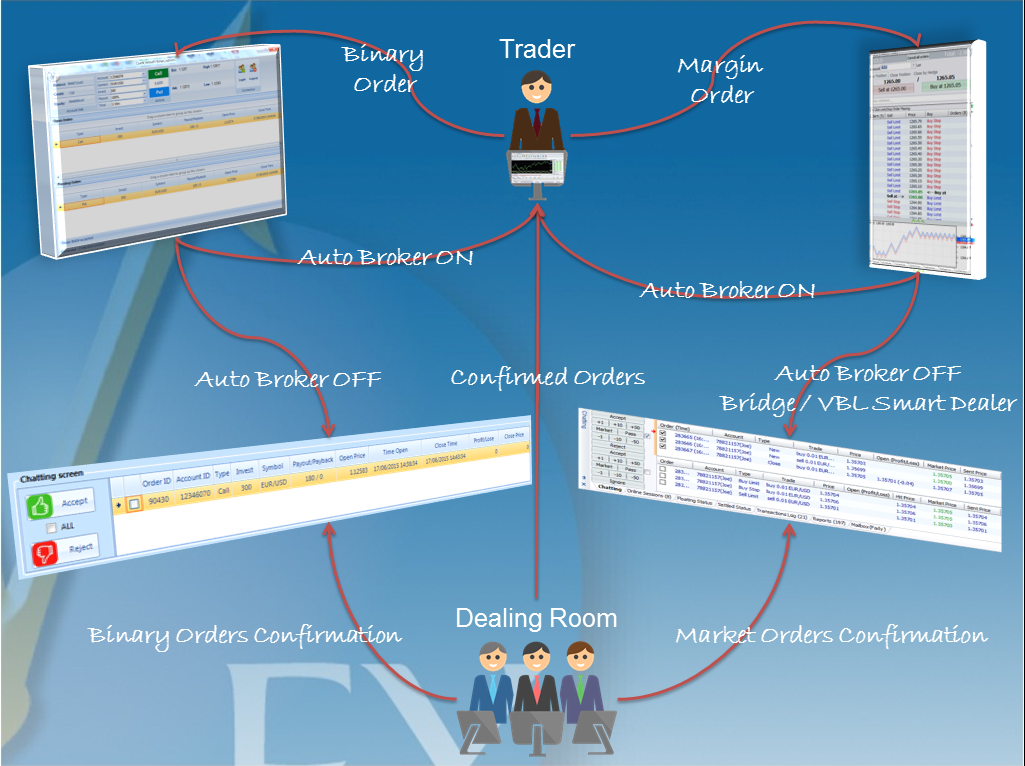 CheckVertexFX Binary Option plugin in vStore.

---
See Also