Welcome to Step-by-step VertexFX Installation tutorial.
VertexFX offers you numerous features and perks to benefit from. These services have been distributed among 27 main advantages gained by using such an interactive and advanced online trading system.
Supported Operating Systems: Microsoft Windows 98, Windows ME, XP, Vista, Windows 7.
When the platform setup file is downloaded, perform a double click on the setup icon; The following window will appear:
Click on "

R

un" button. The installer will start extracting the files. See the following figure.
The following image shows the welcome message. Click on "

N

ext" to go to the next step.
After clicking "

N

ext" as mentioned, it will show you the following:
As the window shows, the installer is ready to install VertexFX Client Terminal. Tick "

I

nstall" button to start the installation. The installler will start copying files to your computer. See the following figure.
When the installer is finished installing VertexFX Trader, it will show you the following figure.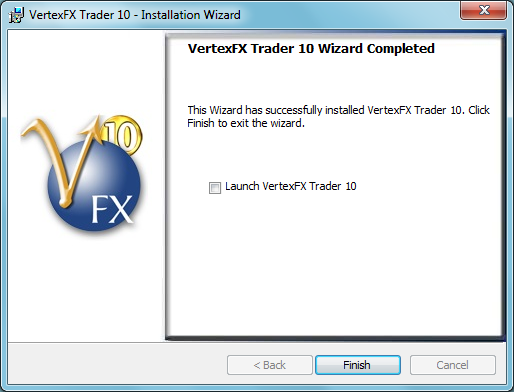 If you wish to run the platform directly after clicking "Finish", please tick "Launch VertexFX Trader" checkbox.
Note:On the first run after the installation is performed successfully; A window will appear with the platform asking you to get a demo account. See next figure.

Related Topics: