Windows 8 sometimes disables the Title bar options by default, to enable it and be able to minimize, maximize, restore screen and exit from the Title Bar all you need to do is the following:
Perform a right click on your VertexFX terminal from your windows desktop shortcut then choose properties.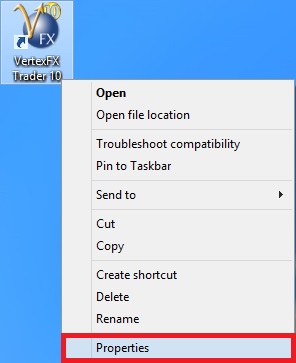 Choose the compatibility tab option, after that un-check the "Run this program in compatibility mode for" option, then be sure that PrivilegeLevel "Run this program as an administrator" is checked if your windows allowed you to edit it, then press "OK".
After that run the terminal and it will work normally.